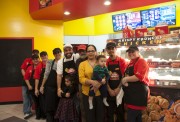 Hundreds in Attendance as New Restaurant in Rogers Celebrates Grand Opening
Rogers, AR, December 9, 2014 (Newswire.com) - Krispy Krunchy Chicken, a Cajun-style chicken restaurant, celebrated its Grand Opening on December 5th. Several hopeful customers were lined up in the rain hours before the event started in anticipation of being one of the first 50 patrons who received a voucher for free meals for one year. During the event, the restaurant offered free samples from their menu which included chicken, shrimp, wings, fish, jambalaya, and several breakfast items.
Of the hundreds that attended the Grand Opening, all patrons received discount meal vouchers. Local radio station, Hog Sports Radio, held a live remote at the event and one determined customer even traveled from Little Rock for Krispy Krunchy Chicken's Grand Opening. Comments on the food were very positive.
The new Krispy Krunchy Chicken location is located at 1710 W. Hudson Rd. in Rogers inside the White Hawk Center.
Krispy Krunchy Chicken has more than 1400 locations in 27 states throughout the U.S. 
Krispy Krunchy Chicken was founded in 1989. Since then, the franchise has expanded throughout the country, partnered with NWA-based Tyson Foods, Inc. and has opened hundreds of retail locations. 
For more information about Krispy Krunchy Chicken visit:  
https://www.facebook.com/pages/Krispy-Krunchy-Chicken_Rogers,AR
###
Krispy Krunchy Chicken is a quick-serve restaurant founded in Lafayette, Louisiana in 1989. Krispy Krunchy Chicken has more than 1,400 locations in 27 states throughout the U.S. KKC specializes in Cajun-style chicken and strives to give their patrons delicious food at an affordable price. 
Share: