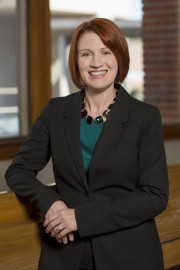 Chief Operating Officer of Chambers Bank Listed On NWA Forty Under 40 List
Fayetteville, AR, July 27, 2015 (Newswire.com) - Chambers Bank, with locations throughout the state, is celebrating the nomination of their new chief operating officer (COO) of Chambers Bank, Erica Preston, to the Northwest Arkansas Business Journal's Forty Under 40 list. 
Preston, a lifelong resident of Arkansas with nearly 20 years of retail banking experience, recently joined Chambers Bank as their COO. Preston uses her extensive experience to help her manage retail, deposit and teller operations. Preston manages platforms in both northwest and south Arkansas. 
The Northwest Arkansas Business Journal annually honors 40 individuals under the age of 40 who are nominated as best in class by their peers in all industries, according to the Northwest Arkansas Business Journal website. 
Preston earned her bachelor's degree from the University of Arkansas and is a recent graduate of the Graduate School of Banking at Colorado. She is active in her community, and industry, and is involved in a number of organizations including the Northwest Arkansas Business Women's Conference committee, Steering Committee of the Leadership Benton County, and the Sunshine Gala Committee of the Sunshine School and Development Center.
###
Chambers Bank is an Arkansas-based bank, established in 1930, dedicated to providing Arkansas residents a safe, friendly and comprehensive option for all their banking needs. Chambers Bank has continued to strive for improvement and has grown into 18 locations throughout Arkansas. Chambers Bank is dedicated to providing communities a personal and secure banking experience and offers innovative and competitive solutions for all banking needs. Chambers Bank has been a part of Arkansas communities for 85 years and plans to continue the tradition for 85 more! Chambers Bank is the "Natural Choice for the Natural State." 
To learn more about the services offered by Chambers Bank, please visit: http://www.chambers-bank.com/
Share: