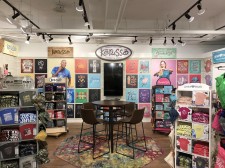 Kerusso Pursues Aggressive Growth Strategy Through Expanded Field Operations
BERRYVILLE, Ark., January 9, 2020 (Newswire.com) - ​Kerusso, the world's largest faith-based apparel company, announces a new partnership with Gib Carson Associates.
A partnership with one of the largest, best-represented groups in the Southeastern United States will bring the company even closer to customers on the Eastern seaboard, and Kerusso believes the Gib Carson group offers what small business owner/operators need: a listening ear, proactive support, great ideas for business, and stellar product recommendations.
"We've known Gib, Jr. for a long time, and the entire team is really excited to partner with GCA. It's a great fit," says Vic Kennett, Founder & CEO of Kerusso.
"What I like most about our new partnership is the family feel you get from the owners, Vic and his son Nik. Being a second-generation rep principle, we pride ourselves on our family of reps and vendors. Our slogan is 'Our Family Your Home,' and we know it is going to be a great long-lasting relationship!" —Gib Carson, Jr., Principle - Gib Carson Companies
The forecast for inspirational products is strong — favorable news for shops who appeal to this significant segment of shoppers. Consumers continue to seek message-based apparel, hats, jewelry, and gifts. In the general market, T-shirt sales are up year-over-year.
According to widely recognized industry publication Gift Beat, which tracks sales in the Gift industry, Kerusso holds the No. 6 spot for best-selling T-shirts nationally and is No. 3 in the T-shirt category in the South. Kerusso has a healthy reputation and strong product offering, and they are excited to gain new ground with both faith-based and secular independent businesses.
Partnering with the team at Gib Carson Associates has a variety of benefits, including Kerusso's new permanent home in the Gib Carson Company Showroom at AmericasMart in Atlanta.
You can visit the 350 square foot Kerusso permanent space in Building 2 on the 13th Floor, space 1327. They'll also host a temporary booth during the January show from the 14th through the 18th.
"Our new space in the Gib Carson Company Showroom is incredible! We've poured time, energy, and a significant investment into creating this tremendous showroom for Kerusso products, and we're excited about our home away from home with our new partners," says Vic Kennett.
Small business owner/operators planning to attend the Atlanta Gift Show in January are encouraged to take advantage of Kerusso's Confirmed Booked Appointment Special.
Customers who set a Confirmed Booked Appointment for the show will receive (4) T-shirts absolutely FREE with their order — Minimum Retail Value of $67.96. In addition, Kerusso will be doing giveaways in the gift showroom every day of the January show. Email ATL@kerusso.com to book your appointment!
To explore Kerusso products or subscribe to weekly business tips for retailers, visit wholesale.kerusso.com.
###
Kerusso is a Christian apparel company, based in Berryville, Ark., which employs more than 100 people and is among the top employers in the area. The company was established with a small, family loan in 1987 and has expanded into a leading supplier of Christian t-shirts and apparel, nationwide. Kerusso operates with the mission to proclaim the word of God through products about Jesus Christ and the Christian message. The Greek word kerusso means "to herald or proclaim." For more than 30 years, Kerusso has proclaimed the message of Jesus Christ through Christian t-shirts, apparel and more.
For more information, visit: wholesale.kerusso.com
Source: Kerusso
Share: