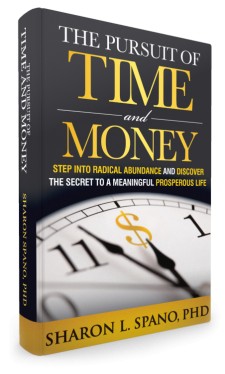 NEW YORK, August 11, 2017 (Newswire.com) - Morgan James's new self-empowerment book, The Pursuit of Time and Money: Step Into Radical Abundance and Discover the Secret to a Meaningful Prosperous Life by Dr. Sharon Spano, explores time and money and their influences on perspectives and choices. It explains how to experience a prosperous and meaningful life by detaching from fear and scarcity to transform the outlook on time and money from a human developmental lens.
Dr. Spano examines the time and money paradox and its effects on business leaders' decisions and viewpoints. A business strategist, she offers an array of life application strategies and practices to adopt for making better life choices with concrete mental and physical activities to promote a healthier approach to time and money. With anecdotes, research, and her observations, she shares how one can alter his or her thinking about time and money to achieve his or her goals and experience satisfaction.
In addition, she addresses the Cycle of Freedom, a visual representation of virtues deriving from stewardship to produce greater joy and prosperity. The Pursuit of Time and Money benefits corporate and nonprofit organizational leaders, entrepreneurs/small business owners, business consultants/ coaches, and professionals and academics. The Pursuit of Time and Money is for anyone with a goal to see a radical life change and seek a more fulfilling, abundant life.
If you would like more information about this topic, or to schedule an interview with Dr. Sharon Spano, please call Nickcole Watkins at 516.900.5674.
About the Author:
Dr. Sharon Spano is a corporate business strategist, workforce expert, and former radio host of WorkSmart Live, who empowers business leaders and entrepreneurs to maximize performance, improve employee engagement, and increase bottom-line results. As a Certified Integral Coach, Dr. Spano is dedicated to helping others adopt new paradigms about time and money so that they can step into radical abundance in every area of their lives. Her research focuses on wisdom, adult development, and leadership.
More About This Title:
The Pursuit of Time and Money: Step into Radical Abundance and Discover the Secret to a Meaningful Prosperous Life by Dr. Sharon Spano will be released by Morgan James Publishing on August 1, 2017. The Pursuit of Time Time and Money—ISBN 978-1683503224—has 248 pages and is being sold as a trade paperback for $17.95
About Morgan James Publishing:

Morgan James publishes trade quality titles designed to educate, encourage, inspire, or entertain readers with current, consistent, relevant topics that are available everywhere books are sold. (www.MorganJamesPublishing.com)
MEDIA CONTACT:
Nickcole Watkins
Morgan James Publishing
516.900.5674
Nickcole@morganjamespublishing.com
 # # #
Source: Morgan James Publishing
Share: