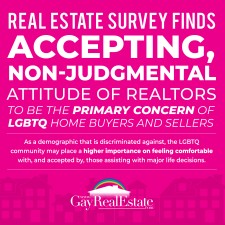 GayRealEstate.com Recently Conducted a Survey of 1,500 Real Estate Agents, Finds LGBTQ Homebuyers Greatly Value LGBTQ Friendly Realtors
PALM SPRINGS, Calif., November 15, 2019 (Newswire.com) - GayRealEstate.com, a service which connects buyers and sellers with compatible agents, recently surveyed their more than 1,500 partner agents and found that the vast majority of their LGBTQ clients demand non-judgement and equality in representation: highly prioritizing a trusting and supportive demeanor in their preferred realtor. As a demographic that is discriminated against, the LGBTQ community may place a higher importance on feeling comfortable with, and accepted by, those assisting with major life decisions.
Founding/CEO Jeff Hammerberg stated "Any organization or firm can tell its agents to not discriminate against the LGBTQ community - but you can't expect that to instantly convert every agent on the planet into an ally of our community. At your core, you either believe that LGBTQ people deserve equal rights or you don't. If you're representing me in a home purchase or sale, it would scare me if I didn't believe you stood 100% in my corner, working as my advocate."
Among the most important characteristics of a good realtor are integrity, tenacity, an engaging personality, understanding of their local housing market and attention to detail, according to Kaplan Real Estate Education. LGBTQ homebuyers would likely include accepting views and an impartiality toward their clients' sexual orientation and/or gender identification.
The GayRealEstate.com team works to identify the best LGBTQ/LGBTQ friendly agents in each state and region of the country, cultivating relationships and deep networks, to provide their clients the support they need to find the ideal home.
Conducting business in a way that is welcoming to LGBTQ consumers is not only moral but mutually beneficial as the total buying power of the adult lesbian, gay, bisexual, transgender and queer population in the U.S. is projected to be about $917 billion. Likewise, more than 45 percent of all consumers under the age of 34 say they're more likely to do repeat business with an LGBTQ-friendly company, according to a Google Consumer Survey. A majority of these consumers also say they would choose an equality-focused brand over a competitor.
With more than 25 years of experience as the industry leader, GayRealEstate.com continually strives for the protection of all people, regardless of sexual orientation or gender identification, and will continue to advocate for the full and equal treatment of all individuals: in real estate markets and all areas of life.
###
GayRealEstate.com connects buyers and sellers with trustworthy gay, lesbian and gay-friendly real estate agents to remove potential discrimination from all real estate transactions. All agents are interviewed and investigated extensively and many have retained partnerships with GayRealEstate.com for decades. With more than 25 years of experience, GayRealEstate.com focuses on establishing reliable real estate connections with professionals who understand the unique needs and desires of the LGBTQ community.
For more information, visit: www.gayrealestate.com
Source: GayRealEstate.com
Share: