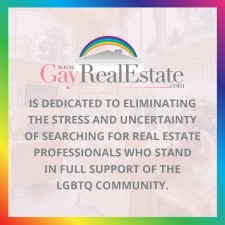 GayRealEstate.com Uses Data Analysis to Improve Service Offerings With Targeted Advances
PALM SPRINGS, Calif., June 19, 2019 (Newswire.com) - ​​GayRealEstate.com, a service which connects buyers and sellers with compatible agents, is incorporating data collection and analysis to provide their clients improved services and targeted benefits. Most recently, GayRealEstate.com is using data collected by the National Association of REALTORS (NAR) to offer their clients (and potential clients) targeted solutions to their needs in focused, intentional deliverables.
GayRealEstate.com is dedicated to eliminating the stress and uncertainty of searching for real estate professionals who stand in full support of the LGBTQ community. The GayRealEstate.com team analyzed data from NAR's Profile of Lesbian, Gay and Bisexual Buyers and Sellers which profiles years of data (2015-2018) to identify and analyze a sample size of 918 lesbian, gay and bisexual buyers/sellers.
This data in addition to its internal data from over 1200 internal LGBTQ closing during the same period reveals salient information that GayRealEstate.com uses to better tailor services to their buyer/seller needs. Statistics from the NAR profile include insights like lesbian and gay buyers/sellers were the oldest at an average of 45 years-old, lesbian and gay buyers were the most likely to identify as unmarried (22 percent) and, while numbers have remained steady at 4 percent, home buyers/sellers identifying as LGBTQ are expected to increase.
GayRealEstate.com continuously extrapolates data internally and from external sources and uses the data analysis to formulate their offerings in ways most beneficial to their client-base. While they will not use the data to pigeon-hole their clients or form services based on stereotypes, they can use the information to better understand the specific needs of their clients and create new and improved services to meet these needs.
The GayRealEstate.com team works to identify the best LGBTQ-friendly cities and communities in each state and region of the country, cultivating relationships and deep networks in those areas and beyond, to provide their clients the support they need to find ideal residency. The service GayRealEstate.com provides is one of many that LGBTQ individuals can use to bypass the potential for anxiety, discrimination and inequitable treatment.
With more than 25 years of experience as the industry leader, GayRealEstate.com continually strives for the protection of all people, regardless of sexual orientation or gender identification, and will continue to advocate for the full and equal treatment of all individuals: in real estate markets and all areas of life.
###
GayRealEstate.com connects buyers and sellers with trustworthy gay, lesbian and gay-friendly real estate agents to remove potential discrimination from all real estate transactions. The GayRealEstate.com team maintains personal connections with reliable agents to ensure their clients are treated equitably and with respect. All agents are interviewed and investigated extensively and many have retained partnerships with GayRealEstate.com for decades. With more than 25 years of experience, GayRealEstate.com focuses on establishing reliable real estate connections with professionals who understand the unique needs and desires of the LGBTQ community.  
For more information, visit: www.gayrealestate.com
Source: GayRealEstate.com
Share: