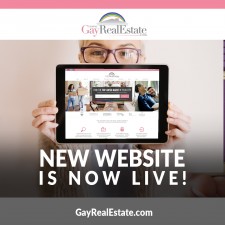 GayRealEstate.com is Launching a Sleek, New Website to Better Service Clients
PALM SPRINGS, Calif., October 1, 2019 (Newswire.com) - GayRealEstate.com, a service that connects buyers and sellers with the Nation's Top LGBTQ REALTORS®, is launching their new, innovative website. The modernized website was crafted to ensure an enhanced experience for clients/website visitors and will feature a new design, improved usability and an engaging platform to showcase the services and expertise of the more than 1,500 partner real estate agents from every city coast-to-coast, including Canada, Mexico and internationally.
The new website design provides the access, support and information that clients and potential clients require. It features an upgraded and streamlined navigation system, a modern design scheme and a fresh new look to corroborate the comprehensive website refurbishment. The user-friendly website accommodates clients with strategic information, architecture and an easy-to-use interface.
GayRealEstate.com is dedicated to eliminating the stress and uncertainty of searching for professionals who ensure and demand each client's right to full, honest representation. The new website serves to support their goal of connecting home buyers/sellers with free access to the nation's top gay, lesbian and gay-friendly agents, free relocation kits to any city in the U.S. or Canada for homebuyers, instant free mortgage pre-qualification and free seller's market analysis, and free buyer's representation.
The GayRealEstate.com team works to identify the best LGBTQ-friendly cities and communities in each state and region of the country and cultivates relationships and deep networks in each, to provide their clients the support they need to find the ideal residency. The service GayRealEstate.com provides is one of many that LGBTQ individuals can use to bypass the potential for anxiety, discrimination and inequitable treatment.
With more than 25 years of experience as the industry leader, GayRealEstate.com continually strives for the protection of all people, regardless of sexual orientation or gender identification, and will continue to advocate for the full and equal treatment of all individuals: in real estate markets and all areas of life.
The GayRealEstate.com team hopes that the new website will further support the needs of their clientele and serve as an effective communication tool going forward.
###
GayRealEstate.com connects buyers and sellers with trustworthy gay, lesbian and gay-friendly real estate agents to remove potential discrimination from all real estate transactions. The GayRealEstate.com team maintains personal connections with reliable agents to ensure their clients are treated equitably and with respect. All agents are interviewed and investigated extensively and many have retained partnerships with GayRealEstate.com for decades. With more than 25 years of experience, GayRealEstate.com focuses on establishing reliable real estate connections with professionals who understand the unique needs and desires of the LGBTQ community.
For more information, visit: www.gayrealestate.com
Source: GayRealEstate.com
Share: