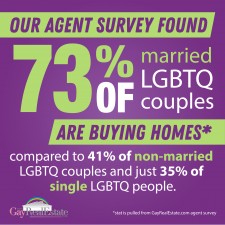 GayRealEstate.com Survey Finds that LGBTQ Community Strongly Values Acceptability, Family-Friendliness When Choosing Homes and Neighborhoods
PALM SPRINGS, Calif., December 16, 2019 (Newswire.com) - GayRealEstate.com, a service that connects buyers and sellers with compatible agents, recently surveyed their more than 1,500 partner agents and found that the vast majority of their LGBTQ clients are married. This, in confluence with other survey findings, supports the assumption that LGBTQ buyers tend to be family-oriented and place a high value on family-friendly, accepting areas in which to settle.
In 2018, one of the leading reasons LGBTQ homebuyers were interested in homeownership was to provide more stability to their life and family, according to Statista. The top concern among potential LGBTQ homebuyers in the United States in 2018 was anxiety about how welcoming neighbors may be. Also, around 40 percent expressed concerns about how the community/neighborhood would react should they start a family, which results in caution when hiring professionals like real estate agents and mortgage brokers.
This supports other findings, including one that shows LGBTQ clients place a high priority on safe, welcoming communities. About 50 percent of surveyed agents reported that neighborhood safety is their LGBTQ clients' highest priority. This included factors like overall safety, diverse/welcoming neighborhoods, crime rates, living in LGBTQ-friendly areas and successful integration.
GayRealEstate.com strives to improve living conditions for their LGBTQ clients and hopes that these facts, paired with the reality that sexual orientation is not a protected class under current federal fair housing laws, will motivate communities to foster a welcoming, inclusive environment for all people.
The GayRealEstate.com team works to identify the best LGBTQ-friendly cities and communities in each state and region of the country and cultivates relationships and deep networks in each to provide their clients the support they need to find the ideal residency. The service GayRealEstate.com provides is one of many that LGBTQ individuals can use to bypass the potential for anxiety, discrimination and inequitable treatment.
With more than 25 years of experience as the industry leader, GayRealEstate.com continually strives for the protection of all people, regardless of sexual orientation or gender identification, and will continue to advocate for the full and equal treatment of all individuals: in real estate markets and all areas of life.
###
GayRealEstate.com connects buyers and sellers with trustworthy gay, lesbian and gay-friendly real estate agents to remove potential discrimination from all real estate transactions. The GayRealEstate.com team maintains personal connections with reliable agents to ensure their clients are treated equitably and with respect. All agents are interviewed and investigated extensively and many have retained partnerships with GayRealEstate.com for decades. With more than 25 years of experience, GayRealEstate.com focuses on establishing reliable real estate connections with professionals who understand the unique needs and desires of the LGBTQ community.
For more information, visit: www.gayrealestate.com
Source: GayRealEstate.com
Share: