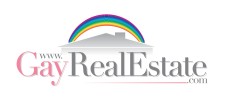 GayRealEstate.com Castigates National Association of REALTORS For Inviting President Trump to Speak at Event
PALM SPRINGS, Calif., May 20, 2019 (Newswire.com) - GayRealEstate.com, a service that connects buyers and sellers with compatible agents, is condemning the National Association of REALTORS' (NAR) decision for having President Trump speak at their national convention on March 17. The GayRealEstate.com team opposes their decision to invite President Trump because of his inadequate ability to behave within the association's own strict code of ethics and his overt dismantling of LGBTQ rights and initiatives.
The NAR is America's largest trade association, representing 1.3 million members, including NAR's institutes, societies and councils, involved in all aspects of the residential and commercial real estate industries, according to their website.
GayRealEstate.com takes issue with the association's invitation because of the Trump Administration's anti-LGBTQ actions, including banning transgender members from serving in the military, not reinstating housing protection guidelines that would prevent LGBTQ Americans from experiencing discrimination while attaining a home, and announcing plans to veto the recently passed Equality Act, approved by a bi-partisan coalition in Congress. The act would update U.S. law to prohibit discrimination on the basis of sexual orientation and gender identity.  
NAR manages the REALTORS Political Action Committee (RPAC) which promotes the election of pro-REALTOR candidates across the United States, according to their website. GayRealEstate.com questions whether these contributions represent the best interests of each of their 1.3 million members.
"Mr. Trump is a licensed real estate broker – he is "to eliminate practices which may damage the public or which might discredit or bring dishonor to the real estate profession," according to just the very first paragraphs of the NAR Code of Ethics and Standards. Again, leadership at NAR turning a blind eye and placing him on a pedestal," said Jeff Hammerberg, Founding CEO at GayRealEstate.com.
The GayRealEstate.com team works to identify the best LGBTQ-friendly cities and communities in each state and region of the country and cultivates relationships and deep networks in each, to provide their clients the support they need to find the ideal residency. The service GayRealEstate.com provides is one of many that LGBTQ individuals can use to bypass the potential for anxiety, discrimination and inequitable treatment.
With more than 25 years of experience as the industry leader, GayRealEstate.com continually strives for the protections of all people, regardless of sexual orientation or gender identification, and will continue to advocate for the full and equal treatment of all individuals: in real estate markets and all areas of life.
###
GayRealEstate.com connects buyers and sellers with trustworthy gay, lesbian and gay-friendly real estate agents to remove potential discrimination from all real estate transactions. The GayRealEstate.com team maintains personal connections with reliable agents to ensure their clients are treated equitably and with respect. All agents are interviewed and investigated extensively and many have retained partnerships with GayRealEstate.com for decades. With more than 25 years of experience, GayRealEstate.com focuses on establishing reliable real estate connections with professionals who understand the unique needs and desires of the LGBTQ community.  
For more information, visit: www.gayrealestate.com
Source: GayRealEstate.com
Share: