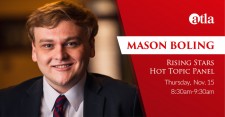 Mason Boling, of Keith, Miller, Butler, Schneider & Pawlik, PLLC, to Sit on Panel of Experts at ATLA Seminar
ROGERS, Ark., November 13, 2018 (Newswire.com) - Mason Boling, of Northwest Arkansas law firm Keith, Miller, Butler, Schneider & Pawlik (K.M.B.S.P.), will present on the Rising Stars of Arkansas- Hot Topic panel at the Association of Trial Lawyers of America (ATLA) Tent Revival seminar. The event will occur from Nov. 15 to Nov. 16 at a tent on 161 W Van Asche Drive in Fayetteville. Boling will present as part of a panel from 8:30 to 9:30 a.m. on Thursday, Nov. 15.
Boling was selected as a "Rising Star" on the 2017 Super Lawyers list, a nationally distributed recognition program published by Super Lawyers Magazine, which features attorneys who embody excellence in the practice of law. He was also named the Top Rated Products Liability attorneys in Rogers, Ark. for 2018 by Super Lawyers. The ATLA Tent Revival is an educational conference and networking event for those practicing or interested in the legal profession.
Boling focuses his practice primarily on drug & device injury, civil and criminal appeals, civil litigation and criminal defense. He is a member of K.M.S.P.'s mass torts team and is the firm's principal appellate counsel, handling appeals on a variety of issues in both state and federal courts. He graduated Magna Cum Laude from the University of Arkansas School of Law in 2014 and achieved the highest score on his bar examination out of nearly 200 examinees. He is a member of the Benton County Bar Association, the Arkansas Bar Association and the Arkansas Trial Lawyers Association.
K.M.B.S.P. hosts attorneys practicing in nearly every area of law, handling a wide variety of cases spanning from prescription drug injuries, serious car and tractor trailer collisions, tax law, banking, wills and trusts to business law. The firm, also, hosts attorneys who are recognized statewide for their work in criminal defense and divorce cases.
Many of the partners and associate attorneys at K.M.B.S.P have deeply-rooted histories in Northwest Arkansas and are proud to call the region home. The firm was voted "Very Best" in the law firm category by the 2018 Celebrate Arkansas Magazine Readers' Poll. K.M.B.S.P. looks forward to hearing from their talented associate at the ATLA Tent Revival.
###
Keith, Miller, Butler, Schneider & Pawlik, PLLC, is a law firm, located in Northwest Arkansas, providing the region the best in legal service. K.M.B.S.P. attorneys have made Benton and Washington Counties their home and are committed to making Bentonville, Rogers, Fayetteville, Springdale and all of Northwest Arkansas a better place to live through providing matchless legal service in a timely, affordable manner. With attorneys practicing in nearly every major legal area, K.M.B.S.P. can help you today, no matter what your legal need.
For more information visit: http://www.arkattorneys.com
Source: Keith, Miller, Butler, Schneider & Pawlik
Share: