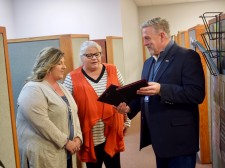 Recognition Gained for "Grace" and "Attentiveness"
BERRYVILLE, Ark., November 7, 2018 (Newswire.com) - Befitting a company built on and sustained by prayer, two Kerusso employees were cited last week by Dion Elmore, VP of Marketing and Public Relations for the National Day of Prayer Task Force.
The National Day of Prayer is observed annually after Congress designated that people are asked: "to turn to God in prayer and meditation."
Elmore presented Lori Hartsell (senior web administrator) and Judy Lee (web administrator) with plaques recognizing their superb customer service skills. They play an important support role for the Christian apparel giant. The two work with the National Day of Prayer team in conjunction with Kerusso's ministry division, Kerusso Ministry Solutions.
"People are talking about what you do with customer service, and you do a great job," Elmore said, surprising the two at a mid-morning ceremony. Specifically, he cited their grace and attentiveness in dealing with the public.
"It's great to hear the reports that come in," he continued. "We introduced Kerusso to our volunteers, and your reputations are wonderful." Elmore then asked Hartsell and Lee if he could pray for them.
Vic Kennett, founder and CEO of Kerusso, is grateful for the recognition for employees that exemplify what the company is about.
"Lori and Judy really are ambassadors for Kerusso," Kennett said. "In our line of work, which is just as much ministry, they come in contact on a daily basis with people who need the love of Christ. I'm proud of both of them!"
Dr. Ronnie Floyd, the senior pastor of Cross Church in Rogers, Arkansas, and president of the NDPTF, also recognized the outstanding job Hartsell and Lee have been doing.
"On Wednesday, October 31st, our Vice President of Marketing and Public Relations, Dion Elmore, made a special award presentation to Judy Lee and Lori Hartsell of the Kerusso customer service team. The award was in recognition of their excellent customer service, servant's heart, devotion, and commitment to the National Day of Prayer. Kerusso is a key ministry partner, helping to resource the more than 50,000 events that take place around the nation on the first Thursday in May. Whether it's our staff, our thousands of volunteers, or our ministry partners at the National Day of Prayer, we value all who work so diligently on behalf of forwarding the cause of 'Unified Public Prayer for America.'"
 Vic and Melody Kennett founded the company in 1987.
###
Kerusso is a Christian apparel company, based in Berryville, Ark., which employs more than 100 people and is among the top employers in the area. The company was established with a small, family loan in 1987 and has expanded into a leading supplier of Christian t-shirts and apparel, nationwide. Kerusso operates with the mission to proclaim the word of God through products about Jesus Christ and the Christian message. The Greek word kerusso means "to herald or proclaim." For more than 30 years, Kerusso has proclaimed the message of Jesus Christ through Christian t-shirts, apparel and more.
For more information, visit: www.kerusso.com.
Source: Kerusso