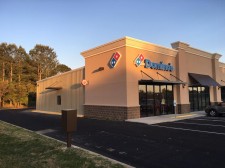 Domino's Pizza Heber Springs Celebrates One Year in Community
Heber Springs, AR, June 6, 2017 (Newswire.com) - Domino's Pizza Heber Springs is celebrating their one-year anniversary in the community. The Heber Springs store has spent the past year delivering delicious, quality food and creating relationships with the community.
In its first year, Domino's Pizza Heber Springs successfully acclimated and engaged with Heber Springs neighbors. Two free-pizza-for-a-year winners were announced and many great meals were shared.
Domino's Pizza is excited about, and energized by, the Heber Springs community and its continual participation with the store. Domino's Pizza is committed to consistently providing Heber Springs a positive environment and excellent dining options.
While continuous improvement and providing quality meals is an important aspect of Domino's Pizza stores, the principal goal is to incorporate a welcoming, friendly place where residents may engage.
Brent Medders, an Arkansas Domino's Pizza franchise owner, built his career from the ground up beginning as a pizza deliverer while he was a college student; he now owns and operates over a dozen locations. He has lived in Arkansas for more than 20 years and is passionate about developing Domino's Pizza restaurants throughout Northwest Arkansas, the River Valley and Central Arkansas.
Domino's Pizza began as a single pizza restaurant in 1960 and has grown into an international franchise. Domino's Pizza delivered more than 400 million pizzas in 2014 alone, according to the restaurant. The franchise has remained successful throughout recent decades and continues to steadily open new locations.
Domino's Pizza is thrilled to celebrate its first year in Heber Springs and looks forward to many more!
###
Domino's Pizza, Inc. is an American restaurant chain and international franchise pizza delivery corporation headquartered at the Domino Farms Office Park in Ann Arbor Charter Township, Mich. Brent Medders is a franchise owner and operator of Domino's Pizza locations throughout Northwest Arkansas, the River Valley, and Central Arkansas. Domino's is dedicated to treating you as a friend while providing excellent pizza for any occasion!
Source: Domino's Pizza Heber Springs
Share: