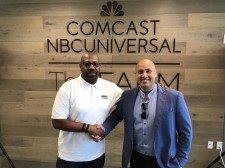 First Down Marketing, an Agency Helping Pro Athlete Entrepreneurs Grow, Welcomes New Business Partner
FAYETTEVILLE, Ark., September 3, 2019 (Newswire.com) - First Down Marketing, with offices in Manhattan and northwest Arkansas, is welcoming its newest business partner, Ryan McNeil, a former professional athlete and successful entrepreneur. First Down Marketing is an agency led by partners Derek Champagne, founder and CEO of The Artist Evolution (TAE), Scott Manthorne, an influential executive in professional sports, and McNeil. The agency helps professional athlete entrepreneurs manage the creative, marketing strategy and ongoing heavy lifting involved in growing their businesses. The addition of McNeil now expands the agency's geographical presence to include Atlanta. 
After a successful career in the NFL as a Pro Bowler cornerback, McNeil founded OT Enterprises, Inc., an organization designed to provide professional athletes with the fundamental tools needed to succeed in business. He also founded SportsID, a data-driven sports technology company that provides mobile and web-based products and services to the sports market on a single digital platform. One product the company offers, CampID, changes how sports campers may engage and interact, transforming the sports camp experience.
"I typically decide on whether to participate in projects or partnerships with my 3-Ps: people, potential and purpose," McNeil said. "The partnership with Derek and Scott checks all the boxes."
McNeil is also the publisher and editor-in-chief of OT Magazine, a print and online publication covering the business and lifestyle side of professional sports. He has received several awards for his entrepreneurship including the Minorities in Business Magazine Sports Leadership Award and an NV Award.
"Being a professional athlete that has had some successful ventures, I know firsthand how important it is to have the right team of people around you to help grow your business," McNeil said. "I'm proud to join First Down Marketing to help other professional athletes grow and expand their businesses as well."
From startups to household brands, the First Down Marketing team has been helping busy entrepreneurs build and sustain successful campaigns for more than a decade. The agency also hosts the Pro Athlete Entrepreneur ™ Awards, recognizing athletes who are excelling through entrepreneurship. The agency incorporates its collective experience in marketing, the sports industry and sports entrepreneurship to offer a team with the distinct expertise, knowledge and high-trust ability to support pro athlete entrepreneurs through the business growth and marketing process. 
Champagne is a marketing professional, consultant and business owner/CEO of TAE, an award-winning agency with a national footprint. Champagne's book Don't Buy A Duck: Stop Wasting Money & Only Do Marketing That Works! became an Amazon #1 Bestseller. Champagne also hosts the Business Leadership Series, a popular podcast, regional ESPN radio show and Alexa daily flash brief. The Business Leadership Series hosts entrepreneurs, celebrity personalities, industry leaders and those who offer valuable insight on personal and professional growth. Champagne has led TAE to work with local, regional and national brands in an array of fields and industries.
Manthorne is a serial entrepreneur, having launched several successful businesses focused in the professional sports vertical. A sought-after expert, he has more than 25 years of experience in marketing, business development, strategic networking and philanthropic endeavors. His passion for helping others, impacting the world on a macro level and collaborating to form highly impactful partnerships brought to fruition All Sports United. Prior to this, he co-founded Athletes and Executives, which was an industry leader strategically connecting business executives with athlete entrepreneurs nationally.
The agency is excited to welcome McNeil to the team and looks forward to collaborating with him going forward. To learn more about First Down Marketing and how it can help busy entrepreneurs, visit http://FirstDownMarketing.agency.
​About First Down Marketing​
First Down Marketing specializes in assisting pro athlete entrepreneurs to grow their business and market their brands. The First Down Marketing team uses its expansive and varied collective experience to effectively create and grow memorable brands, develop and manage strategic marketing campaigns and incorporate cutting-edge marketing tools. The team is passionate about meeting and exceeding its clients' expectations by providing high-trust marketing services. From startups to household brands, the First Down Marketing team has been helping busy entrepreneurs build and sustain successful campaigns for more than a decade.
Learn more at http://FirstDownMarketing.agency.
Media Contact:
Derek Champagne
Derek@theartistevolution.com
479-422-7427
Source: The Artist Evolution
Share: