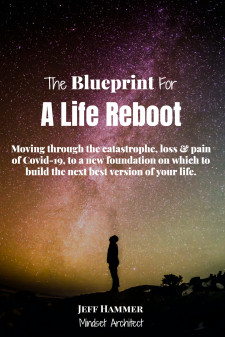 Founding CEO and Mindset Architect of DominatingEdge.com releases FREE new Ebook to help individuals rebuild their lives and thrive amidst the aftermath of the 2020 pandemic
SAN LUIS OBISPO, Calif., March 17, 2021 (Newswire.com) - Jeff Hammer, Mindset Architect and CEO of DominatingEdge.com, is on a mission to help individuals to rebound and rebuild from the devastating effects of COVID-19. Having experienced phenomenal success in his personal life and business, Jeff hopes to pass on a few of the lessons and habits that have helped him accelerate his own journey.
Hammer's FREE eBook "The Blueprint for a Life Reboot" focuses on moving through the catastrophe, loss, and pain of COVID-19 to a new foundation on which to build the next best version of your life. This past year was extremely hard on everyone. This book is intended to serve as a guidepost - a beacon of sorts - to bring some light and peace to lives amidst the storm.
Using the Principles of The Dominating Edge, Hammer outlines in the book the principles and practices that help individuals attract the things and life they desire. He shares what he has developed as the simple step-by-step approach of "how to update your personal operating system (i.e., subconscious mind) and transform any underlying negative internal thoughts, images, and beliefs (i.e., programs) into positive ones."[1] What Hammer has found and reveals through this book is how upgrading the programming in one's personal operating system "brings about awareness, confidence, and certainty, thus accelerating success in our personal and professional, lives."[2]
In this book, readers will:
Discover the 5-Step Process of Intentional Manifestation Using the Law of Attraction
Learn Specific Techniques to Raise Your Vibration and Supercharge Your Manifestation Power, Rebooting Your Life, Getting You Swiftly to Where You Want to Be
Uncover & Replace Underlying Patterns That Block Manifesting an Abundant Life
This book is for those seeking to increase their confidence, attracting even more successes, happiness and abundance in life. Hammer shares how, in just minutes per day, one can apply the principles of this book to achieve a great life.
The FREE eBook can be downloaded from The Dominating EDGE, here: https://www.dominatingedge.com/, where readers can also access The Dominating Edge Podcast: the 5-minute message designed to increase personal happiness and abundance, https://www.dominatingedge.com/podcast. For those seeking more, Hammer will be releasing his first e-course in April 2021: "The Blueprint to Manifesting Financial Abundance."
[1] "The Blueprint for a Life Reboot" by Jeff Hammer
[2] Ibid.
The mission at the Dominating EDGE™ is to guide individuals and businesses into a path of least resistance, bringing balance, harmony and, ultimately, intentional co-creation with this higher power at our very core - which allows both individuals and companies to swiftly move from where they are at to where they want to be. Ultimately, our process will increase your freedom and abundance, allowing a natural flow of good into your life.
Source: Dominating EDGE
Share: