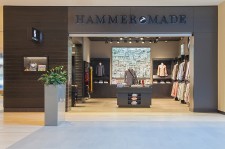 AUSTIN, Texas, August 14, 2019 (Newswire.com) - Delaware North, one of the largest privately held hospitality companies in the world, has announced plans to bring the Hammer Made men's specialty clothing brand to Austin-Bergstrom International Airport, with a retail store opening Friday, Aug. 16, 2019. Hammer Made, which offers an array of men's shirts, ties, t-shirts and other accessories, currently has stores in Georgia, Massachusetts, Illinois and Minnesota. The Hammer Made location in Austin-Bergstrom will be fully operated by Delaware North. 
"We are excited to be partnering with Delaware North on this project," said Jason Hammerberg, CEO of Hammer Made. "Our stores exist to inspire men to look and feel their best; once they put on a Hammer Made shirt they are hooked. We look forward to introducing Hammer Made to the men of Austin." 
This will be Hammer Made's first licensed location in the company's 10-year history, a step that the organization's leadership has been thoughtful about taking.
"We have been approached to do a number of different licensing deals in the past, but we just had not found the right partner," said Hammerberg. "In Delaware North, we found a company that shares our passion for providing an excellent experience to the men we exist to serve."
Overall, Delaware North's travel division operates food, beverage and retail services in more than 30 airports and travel hubs across three continents, including some of the world's busiest airports such as Hartsfield-Jackson Atlanta International Airport, Los Angeles International Airport and London's Heathrow Airport. The company's 300 total airport outlets include more than 200 brands — a mix of award-winning proprietary concepts, local and national partnerships and franchises.
"Hammer Made is exactly what we look for in a partner and a retail concept in the airport," said Kevin Kelly, president of Delaware North's travel division. "It's an in-demand brand with a top-quality product line that we know travelers will love in Austin."
…
Hammer Made is a specialty men's store offering distinctive, limited-run shirts and accessories of the highest quality. They work directly with the best fabric mills and manufacturers in the world, eliminating the middle man and passing the savings on to their customers. Shop their complete line of shirts, ties, socks, cufflinks, belts, wallets and bags in-store or at www.HammerMade.com.
About Delaware North
Delaware North is one of the largest privately held hospitality companies in the world. Founded in 1915, Delaware North has global operations at high-profile places such as sports and entertainment venues, national and state parks, destination resorts and restaurants, airports and regional casinos. Delaware North has annual revenues of more than $3 billion in the sports, travel hospitality, restaurants and catering, parks, resorts, gaming, and specialty retail industries. Delaware North's travel business dates back to 1939 and continues to maintain several airport partnerships that have spanned more than 60 years. Learn more at www.delawarenorth.com.
###
Source: Hammer Made
Share: