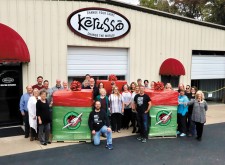 Kerusso® donates thousands of items to Samaritan's Purse, International Relief - the Operation Christmas Child program.
BERRYVILLE, Ark., November 12, 2019 (Newswire.com) - Operation Christmas Child is a project of Samaritan's Purse, an international relief organization whose mission is to provide local partners around the world with shoeboxes filled with small toys, hygiene items, and school supplies as a means of reaching out to children in their own communities with the Good News of Jesus Christ. Gifts are shipped outside the United States to children affected by war, poverty, natural disasters, famine, and disease; and to children living on Native American reservations in the U.S.
The green shoebox with a red lid is iconic! Brightly colored boxes filled with practical and fun items, packed by individuals, families, and groups across the United States, are sent to children in need around the world. An OCC packing party is a memorable experience.
Kerusso, a Christian apparel company located in Berryville, Arkansas, packed a total of 39,000 gifts valued at $111,000 wholesale, to support Operation Christmas Child in advance of National Collection Week Nov. 18-25. To join the fun, Team Kerusso wrapped the pallets in green and red shrink wrap, completing the look with a festive bow.
"Shoebox gifts demonstrate God's love in a tangible way to children in need around the world, and we're so grateful to companies like Kerusso who come alongside our ministry to help make it happen." —Jeff Porter, Manager of Corporate Relations for Samaritan's Purse
Kerusso's Founder and CEO, Vic Kennett, shares credit for his generosity with the company's employees:
"When I founded this company in a spare room of my home over 32 years ago, I couldn't have envisioned where we'd be today. God is so good, and we are blessed to be able to participate in opportunities like this. Members of Team Kerusso are overjoyed to help share the Good News with kids by supporting Operation Christmas Child."
Our mission at Kerusso is to share the Good News through products that point to Jesus Christ; we call our work T-Shirt Evangelism. We love supporting the work of Samaritan's Purse through Operation Christmas Child to share the Good News with kids around the world. Every child should have the chance to learn about Jesus."
It is a Kerusso tradition to gather around the packages to pray before sending the shipment out for pickup.
###
Kerusso is a Christian apparel company based in Berryville, Arkansas; with over 100 employees, they are a top employer in the area. The company was established by founder Vic Kennett with a small family loan in 1987 and has expanded to become the leading nationwide supplier of Christian T-shirts. Kerusso operates with the mission to Proclaim the Good News to the world through products about Jesus. The Greek word 'kerusso' means "to herald or proclaim." For 32+ years, Kerusso has proclaimed the message of Jesus Christ through Christian apparel, accessories, and gifts.
For more information, visit: www.kerusso.com
Source: Kerusso
Share: