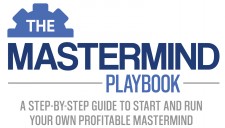 Aaron Walker Teams Up With Brian Moran for The Mastermind Playbook
HENDERSONVILLE, Tenn., November 20, 2019 (Newswire.com) - ​Aaron Walker, successful entrepreneur, life/business coach and author, is now offering The Mastermind Playbook, a focused resource tool that teaches and supports those interested in creating their own Mastermind Group. Walker teamed up with Brian Moran, co-author of the New York Times bestseller 12 Week Year, which teaches tactics on how to become more productive and goal-achieving. The Mastermind Playbook program includes a free 12 Week Year template, valued at $300.
The Mastermind Playbook is an innovative program that teaches the fundamentals of creating a successful Mastermind Group. Mastermind Groups are communities for people seeking to grow and improve their business and personal lives through camaraderie, accountability and shared wisdom. The Mastermind Playbook teaches how to implement a group using a tested and proven step-by-step methodology. The program incorporates steps instructing on the best practices for recruitment, group resources, live events, systematized processes and more.
Walker teamed up with Moran to include 12 Week Year templates as a facet of The Mastermind Playbook program. The 12 Week Year process is a method developed in the sports field to help athletes optimize their potential. Thousands of individuals and organizations use the process to execute their objectives, which helps increase income, balance priorities, lower stress and more.
The Mastermind Playbook incorporates this method into its own process of creating and maintaining effective Mastermind Groups, working in congruence to help those seeking purposeful and fulfilling lives.
Moran is a New York Times bestselling author, highly respected expert and accomplished executive, who has developed a well-versed business perspective from his vast experience in consumer products, healthcare, foodservice, automotive, transportation and professional services sectors.
Walker is a businessman and life coach with more than 38 years of experience. He has established, bought and sold eight successful companies and mentors 11 individuals. He has established a View from the Top community to help those in need of support in achieving goals and living fully.
Learn more about The Mastermind Playbook at: www.themastermindplaybook.com.
###
Aaron Walker is an entrepreneur with a passion for success; starting his first business at 18 and selling it to a Fortune 500 company nine years later. He established, bought and sold eight successful companies throughout the past 38 years. Walker participates in a weekly mastermind group, which he's done for more than a decade. Other members include Dave Ramsey, Dan Miller, Ken Abraham and seven other notable Nashvillians. Walker has enjoyed a 36-year marriage with his wife, Robin. Today, Walker helps men grow in success and significance as president and founder of View from the Top, a premier life and business coaching resource. Walker's book, View from the Top, motivates and inspires readers to live a successful and significant life.
Learn more: https://www.viewfromthetop.com/
Source: The Mastermind Playbook
Share: