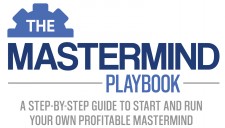 Aaron Walker, Business Coach and Author, Offers Mastermind Playbook on How to Create Meaningful Mastermind Groups
HENDERSONVILLE, Tenn., November 13, 2019 (Newswire.com) - ​Aaron Walker, successful entrepreneur, life/business coach and author of "View from the Top: Living a Life of Significance," is now offering The Mastermind Playbook, a focused resource tool which teaches and supports those interested in creating their own Mastermind Group.
Walker strives to aid others to live with intentionality, meaning and purpose. He has been a member of a Mastermind Group with leading business professionals including Dave Ramsey for years and he is a frequent guest on many business and motivational programs and podcasts including John Lee Dumas's popular podcast, Entrepreneur on Fire.
Mastermind Groups provide immersive group experiences that teach members how to live a life of success and provide the tools necessary for significant life change. The groups are easily scalable, increasing in popularity, have proven stability and low churn rates. The Mastermind Playbook instructs those seeking to start a Mastermind Group on the best practices for recruitment, group resources, live events and systematized processes.
The program incorporates an 11-step program which includes steps on how to build a mastermind group, how to focus the group, programming the content, leveraging existing connections, streamlining promotional calendars, on-boarding, creating unique/personal experiences for members, live events, administration and more.
Value-added services of the program include a free "12 Week Year" template (from the 12 Week Year by the New York Times best-selling author Brian Moran- valued at $300), access to The Mastermind Playbook private Facebook group which provides additional support/collaboration and bi-weekly support calls with Aaron Walker and his team.
Walker is a businessman and life coach with more than 38 years of experience. He has established, bought and sold eight successful companies and mentors 11 individuals. He has established a View from the Top community to help those in need of support in achieving goals and living fully.
Learn more about The Mastermind Playbook at https://www.themastermindplaybook.com.
###
Aaron Walker is an unequivocal veteran entrepreneur with a passion for success; starting his first business at 18 and selling it to a Fortune 500 company nine years later. Unwilling to rest on past success, he established, bought and sold eight successful companies throughout the past 38 years. Having a strong desire for personal development drives Walker to participate in a weekly mastermind group which he's done for more than a decade. Other members include Dave Ramsey, Dan Miller, Ken Abraham and seven other notable Nashvillians. Walker has enjoyed a 36-year marriage with his beautiful wife, Robin. Today, Walker helps men grow in success and significance as president and founder of View from the Top, a premier life and business coaching resource. Walker's book, View from the Top, is guaranteed to motivate and inspire you to live a successful and significant life.
Learn more: https://www.viewfromthetop.com
Source: The Mastermind Playbook
Share: